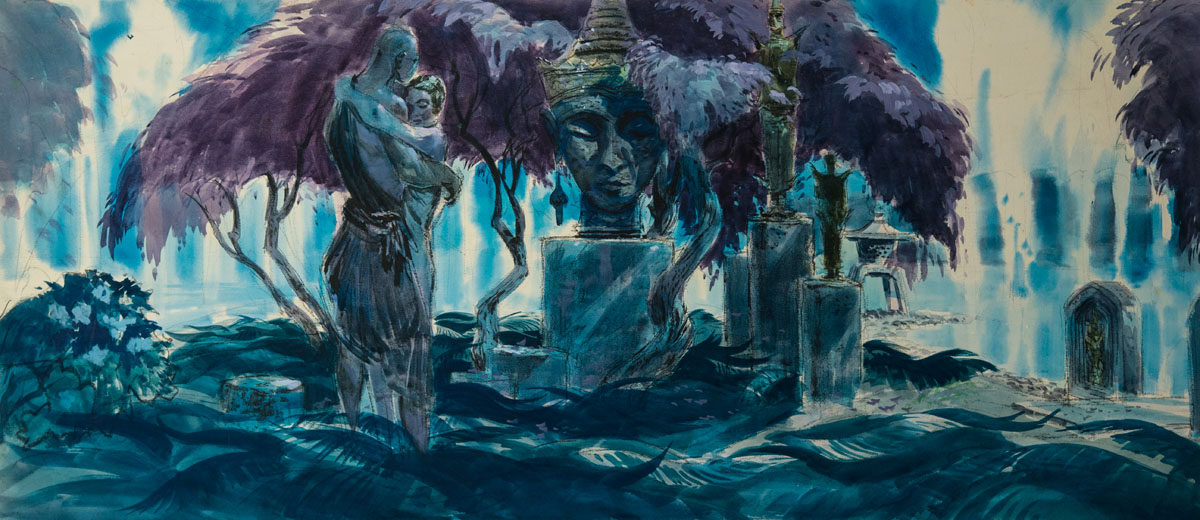 YEAR: 1956
ABOUT THE PRODUCTION
This 1956 classic was the first musical by Rodgers and Hammerstein that John DeCuir worked on. The film adaption was planned to feature the talents of Gertrude Lawrence and Yul Brynner, but sadly Lawrence passed away before production began. Upon the recommendation of Yul Brynner, the role of Anna was given to Deborah Kerr, while Marni Nixon provided Anna's singing voice.
The King and I was one of two films that was shot in CinemaScope 55, a 55 millimeter film with 6-audio channels that was supposed to revolutionize filming. The format was used as part of the promotion of the film, but was released in the standard CinemaScope 35 with 4-audio channels. However, in 1961 it was finally released in its full glory.
SUMMARY
Mrs. Anna Leonowens and her son Louis arrive in Bangkok, where she has been contracted to teach English to the children of the royal household. She threatens to leave when the house she had been promised is not available, but falls in love with the children. A new slave, a gift of a vassal king, translates "Uncle Tom's Cabin" into a Siamese ballet. After expressing her unhappiness at being with the King, the slave decides to make an attempt to escape with her lover. Anna and the King start to fall in love, but her headstrong upbringing inhibits her from joining his harem. She is just about to leave Siam but something important she finds out makes her think about changing her mind.
DIRECTOR
Walter Lang
ART DIRECTOR/ARTIST
John DeCuir Sr. - Featured Artist